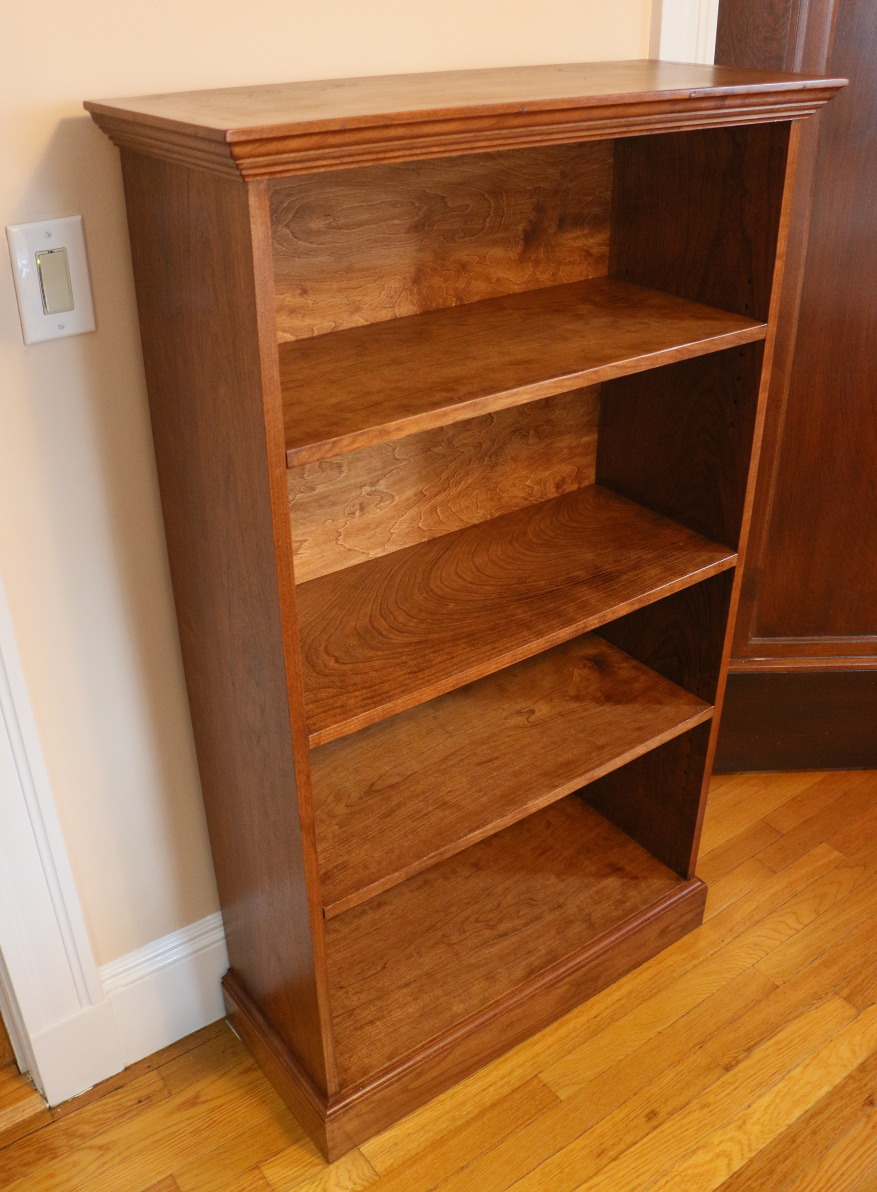 By nygren
Mon 31 December 2018
Project finished a few weeks ago: scratch-made cherry wood bookcase for our bedroom. We were getting tired of the piles of books accumulating on the floor from while to the older child after the earlier one had gone to sleep, plus this also gives us a place for the too-read-next and partially finished books that otherwise accumulate on our nightstands. Plus you can never have too many bookcases. I've now made four bookcases in the house from scratch, but the previous three were painted. This is now one of the nicer pieces of furniture we own. :-)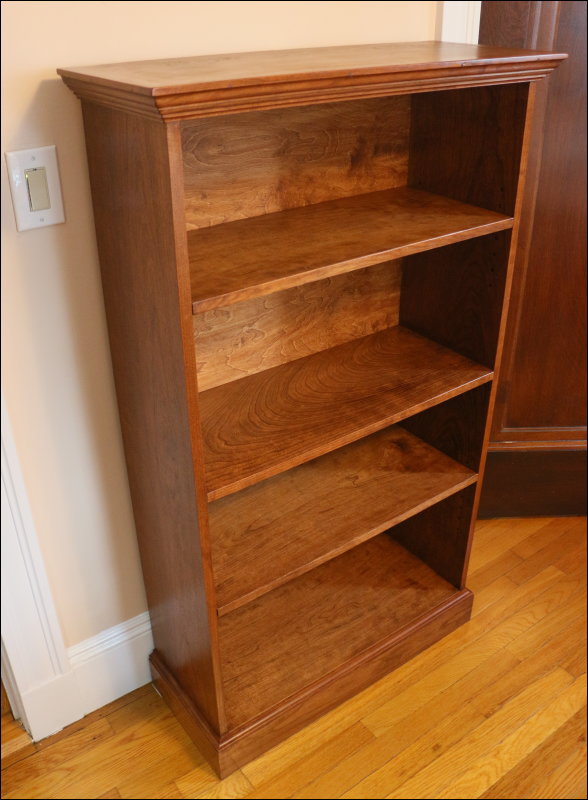 If I'd planned further in advance I could have better hidden the nails used to hold on the top-molding, but a little brown sharpie causes them to disappear.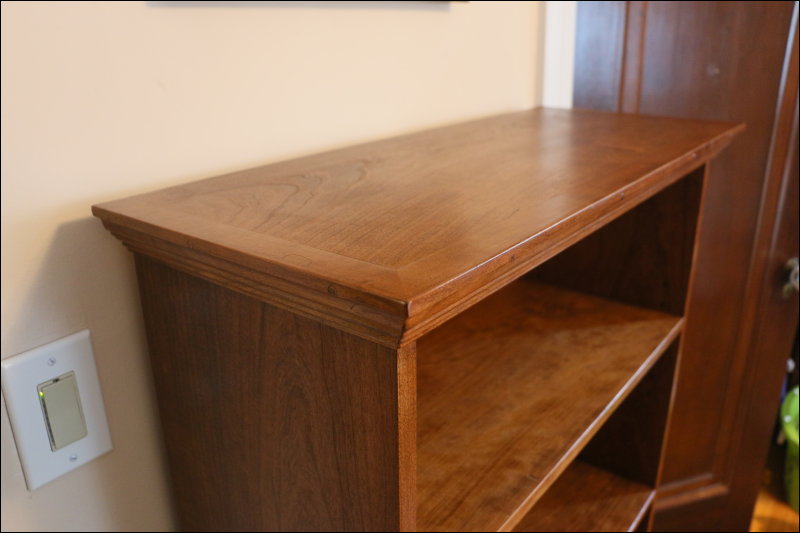 Detail of top molding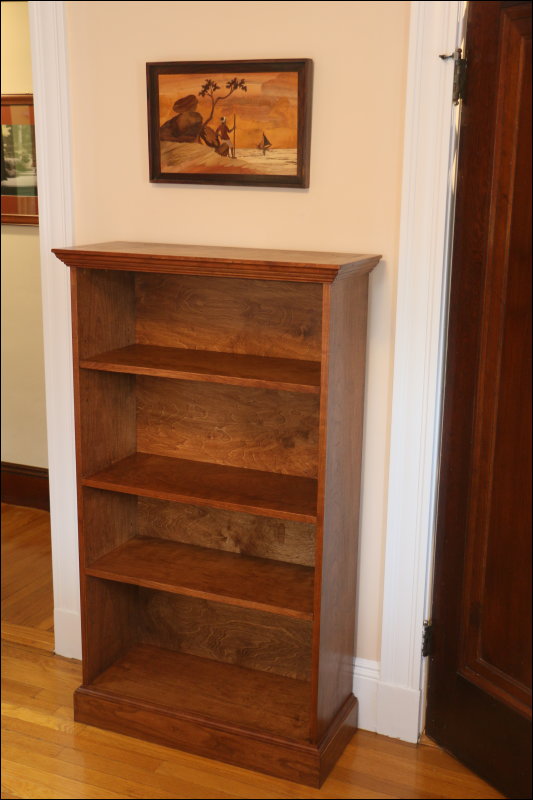 I got most of the wood from [Anderson & McQuaid])http://www.andersonmcquaid.com/) in Cambridge, and the backings are 1/4" birch plywood from Rockler.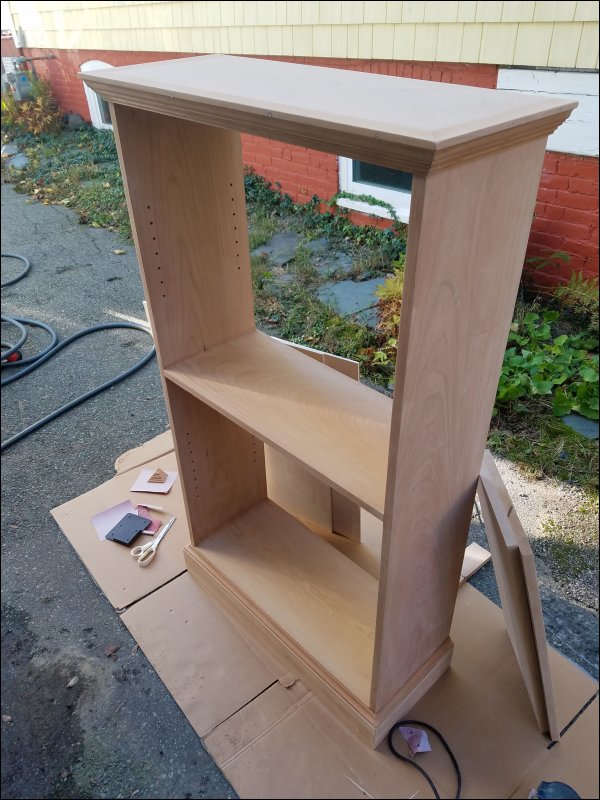 Prior to staining and finishing
I've been using Kreg Jigs to do most of the construction. Ana White's blog got me started with using the Kreg Jig to make bookcases and other furniture, which makes assembly of sturdy structures a breeze. (This helping tower I built previously used a similar construction technique).
I stained the bookcase in OCS-116 Harvest Cherry from Woodwright Finish and ordered it directly from them. The theory here is that if I order some Amish furniture down the road, I should be able to get it in this same finish. I might have gone a little lighter in color in retrospect to show the grain better, but I'm happy with how it turned out. I put on three top-coat layers of General Finishes Oil-baed Gel Topcoat which I rubbed on with a cloth, working outside of course.
It took over a month for everything to outgas enough for us to be willing to move the bookcase up to our bedroom, but now it is happily full of books.
---